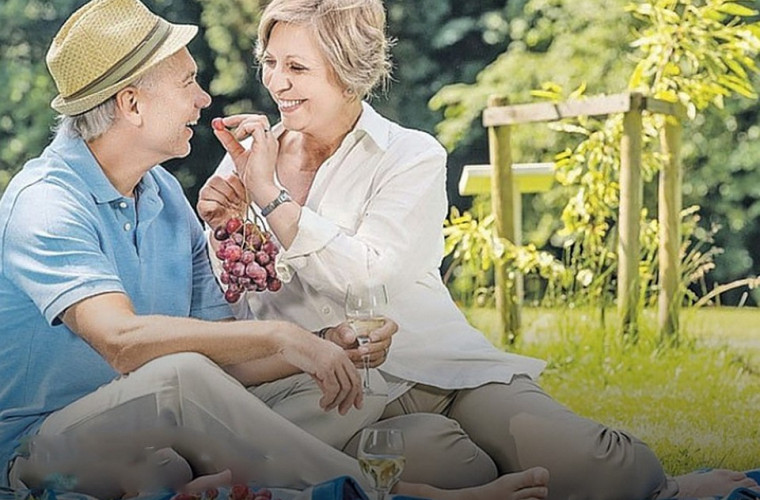 8 First Date Tips for Those Over

People sometimes part ... Sometimes, it seems to me that they only do this, so often you have to deal with partings. But that's not the point. Rather, on the contrary, about meetings. They part with some, and meet with others. How does it happen when you are not twenty, but a little or substantially more.


Meetings are not such a simple matter, especially if the last date was with an ex or from a former years of that ... in general, there was a time, but a long time ago. Everything is all right with communication when it comes to everyday life or a contract at work or debriefing with a cool lady of a child, but a date is completely different. You go on a date to find a mate. This thought alone stimulates the imagination and creates tension that is difficult to cope with. It seems that this is something indecent, and it is impossible to avoid evaluations, but in the depths of your soul, the taboo has not been canceled and you feel, as it were, not at ease. How to behave, what to talk about, what if he doesn't like me and he just leaves. He or she doesn't care if this is the first date for women.


How many problems could be avoided if you were able to communicate, say what you think, keep silent when needed, pause and endure it. Communication can be easy, and so hard that it seems easier to dig up three hundred square meters from mom in the garden. But, nevertheless, the desire to do something for oneself, to receive the already forgotten almost warmth pushes one to this terrible test of body and spirit.
This is not a manual on behavior and seduction. It is assumed that both know how to behave, know how much and what to drink, and meet to change something for themselves. Rather, these are reflections on the attitude towards the first date after a long break.


The image in the head. I have heard more than once: "The young man outwardly is not at all my style, and I do not understand why we are together." Interestingly, "from what litter" are the images of the desired man born? A bizarre combination of cinematic macho, childish perception of a big and strong dad, attractively repulsive features of the former, a fleeting glance of an oncoming passer-by, completed by a violent imagination - all this is mixed in a visual mixer, and here is the image of the desired prince on a white measure ... a horse. What do you think is the probability of a match on a date? Leave your image at home, otherwise it will interfere with the process all the time and, in the end, ruin everything. Maybe you still don't know what exactly you need, simply because this specimen did not come into view and therefore did not leave its mark on the imagination. Each has something that can catch on, try to see a person without your own projections, however, even if you have communicated before, there are options for a different angle.


HR department elsewhere. Sometimes it seems that the Gestapo would envy the questions with partiality. The only thing missing is the light in the eyes. Where was she born, how old is the grandmother and what is the mark on the geography of the ball in the fifth grade. He would have to work in the personnel department. Finally, there are practically no blank spots left in the biography, and suddenly it turns out that there is nothing more to talk about. In general, I went to an interview, which may well be mutual. Why do you need it? The biography is just an outline of a person, it is much more interesting to talk about what worries. Tell me what you think and I will understand you. Take an interest in hobbies, tastes, addictions. The desires of the partner, especially the innermost ones, will say much more about him than any personal data. If he spoke about it, then he trusts. This is a good opportunity to captivate and understand by the response who is in front of you, and the biography and a possible stamp in the passport will be checked in the registry office, from where it is never too late to escape, in the cinema is clearly shown. Talk about what interests you. Searching for common themes is testing for one's own. And, if there are any, then the date can turn into a fascinating dialogue.


No comparisons needed. This is very difficult, because this process starts automatically, forcing right here, for the twenty-eighth time, to mourn the past relationship in which you were happy, if he, the traitor, would not have been so ... In general, comparison stimulates memories, and you involuntarily drop out of the dialogue and from the present moment, which in turn makes you remember the style of communication with the ex, and the person sitting opposite suddenly catches familiar manners and interest melts before our eyes.


Here and now. This is something that many forget about, plunging into happy memories of light, in the sense of kilograms, youth, or fantasizing about what kind of sports joint children will play. Falling out of reality generally looks like a widespread insanity. Half moved to Wirth, going deep there in the slightest pause for unnecessary information or just to carry the spirit, in sports this is called time out, and in everyday life - social networks. It is understandable, it is difficult from habit to communicate without interruption. Do not plan a joint future on the first date, this is an attempt to find inner support, it interferes with the relationship.